If you're doing affiliate marketing it is imperative that you're organized. And to do this you need a plugin that will track and manage affiliate links for you, so you're not stuck doing hours of digital manual labor…
Regardless of what your blog is about, if you're doing affiliate marketing you need some kind of plugin for tracking and managing your affiliate links.
You don't have to use tools to track and deploy your affiliate links, of course.
But this is a massive mistake because all you're doing is creating more work for yourself down the line.
How so?
Think about it this way: if you promote one product, say a hosting company, and you're using that company's affiliate link on hundreds of posts.
What happens if that company goes under or it closes its affiliate program?
If you're not using an affiliate management tool, you'll have to go into each of these posts and manually change the links.
And that will take A LONG TIME.
Or, if you're smart, you'll start properly and use a tool like Thirsty Affiliates to organize, track, and deploy affiliate links across your site.
If you do this, you can change thousands of affiliate links at the same time just by changing one link.
That's better, right?
The Best Affiliate Link Management Plugin
OK, so you're sold on the concept. But how do you go about using Thirsty Affiliates to manage and deploy your affiliate links?
Let's take the example of a hosting company from earlier.
With Thirsty Affiliates, you'll only need one link for that affiliate. And that link can be placed and used anywhere on your blog.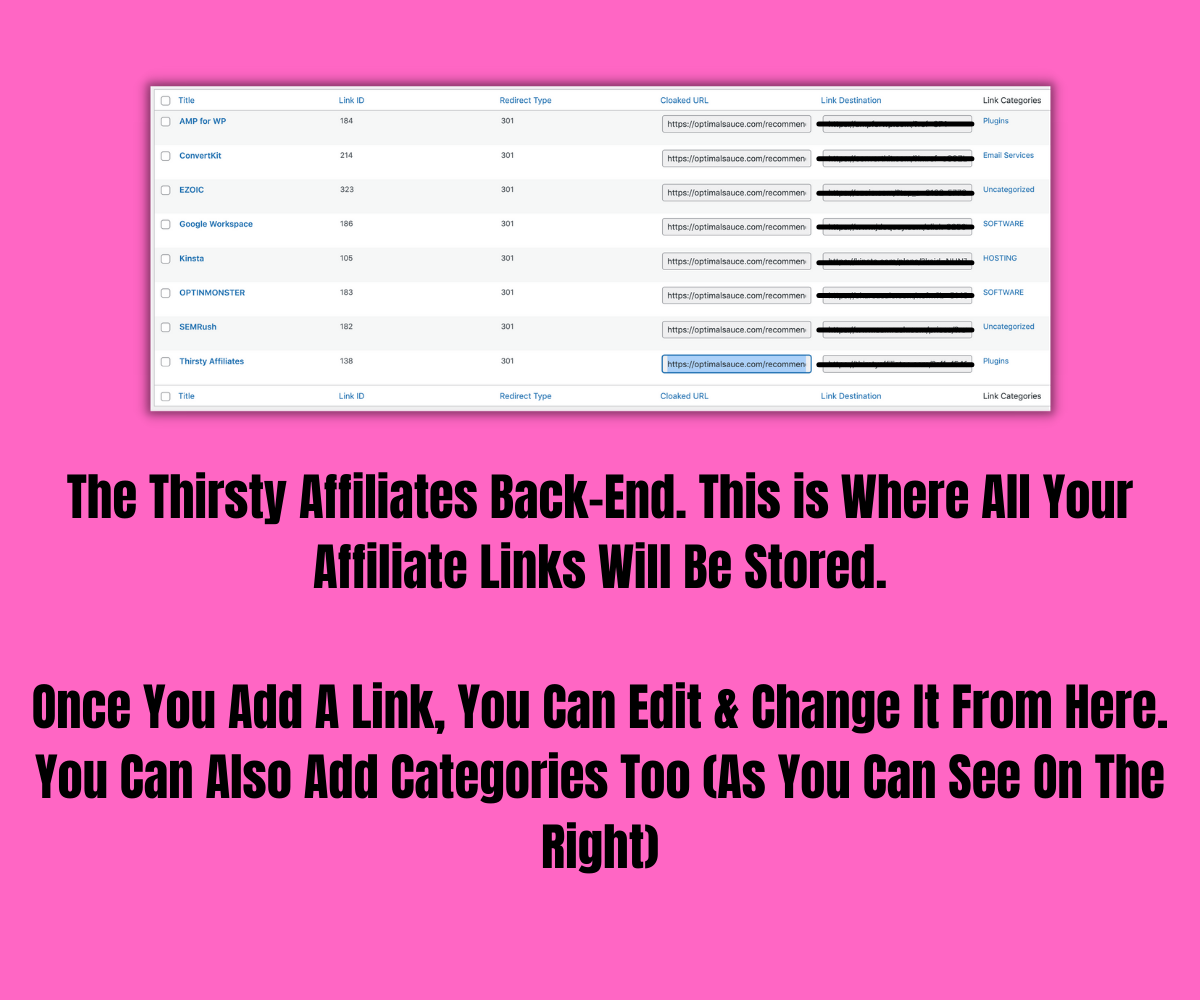 The control for that link sits inside Thirsty Affiliate's dashboard. If you want to change it, and change ALL the placements of it across your site, you do that here.
No manual work required.
Your Thirsty Affiliate link will look something like this – www.yourwebsite.com/recommends/that-hosting-company – and you can change the "recommends" bit to whatever you like as well.
How To Setup Thirsty Affiliates
I've included a step-by-step guide on how to properly setup Thirsty Affiliates below. It is very simple, and once you've set it up you don't really have to touch it again.
Pro or Free Version?
Thirsty Affiliates is available as either a free version or a Pro version. The Pro version costs $99 a year for a single site and given what it can do, I would say it is worth every dime.
As you can see below, the Pro version includes A LOT of functionality.
Shortening / Destination Cloaking
Link Categorization
Choose Your Redirect Type (Enhanced JS Redirect or Server-Side)
Affiliate Link Picker Tool
Advanced Link Insertion Types
Smart Uncloaking (for Amazon Associates compatibility)
No Follow & Open In New Tab Options
Uses Custom Post Types
Basic Statistics Reports
Exclude Known Bots From Statistics
REST API Compatibility
WPML & Polylang Translation Plugin Integrations
See Which Pages/Posts Affiliate Links Are Inserted
Automatic Keyword Linking
Advanced Statistics Reports
Geolocation Link Redirects
Automatic Affiliate Disclosure
Amazon API Importing
CSV Import / Export Tool
Export Statistics Reports as CSV
Link Scheduling
Google Analytics Click Event Pushing
High Speed HTAccess Redirect
Link Event Notification Emails
Automatic 404 Checker
URL Shortening (with bit.ly & goo.gl)
Google Tag Manager Compatibility
Control Plugin Visibility For Multi-Author Blogs
WooCommerce External Product Integration
But one of the coolest features in Thirsty Affiliates is the ability to geo-locate your affiliate links.
This means you can use one link for multiple affiliate products. For instance, say you're in the smartwatch niche and you promote a retailer in the US but you get a lot of traffic in the UK and Philippines too.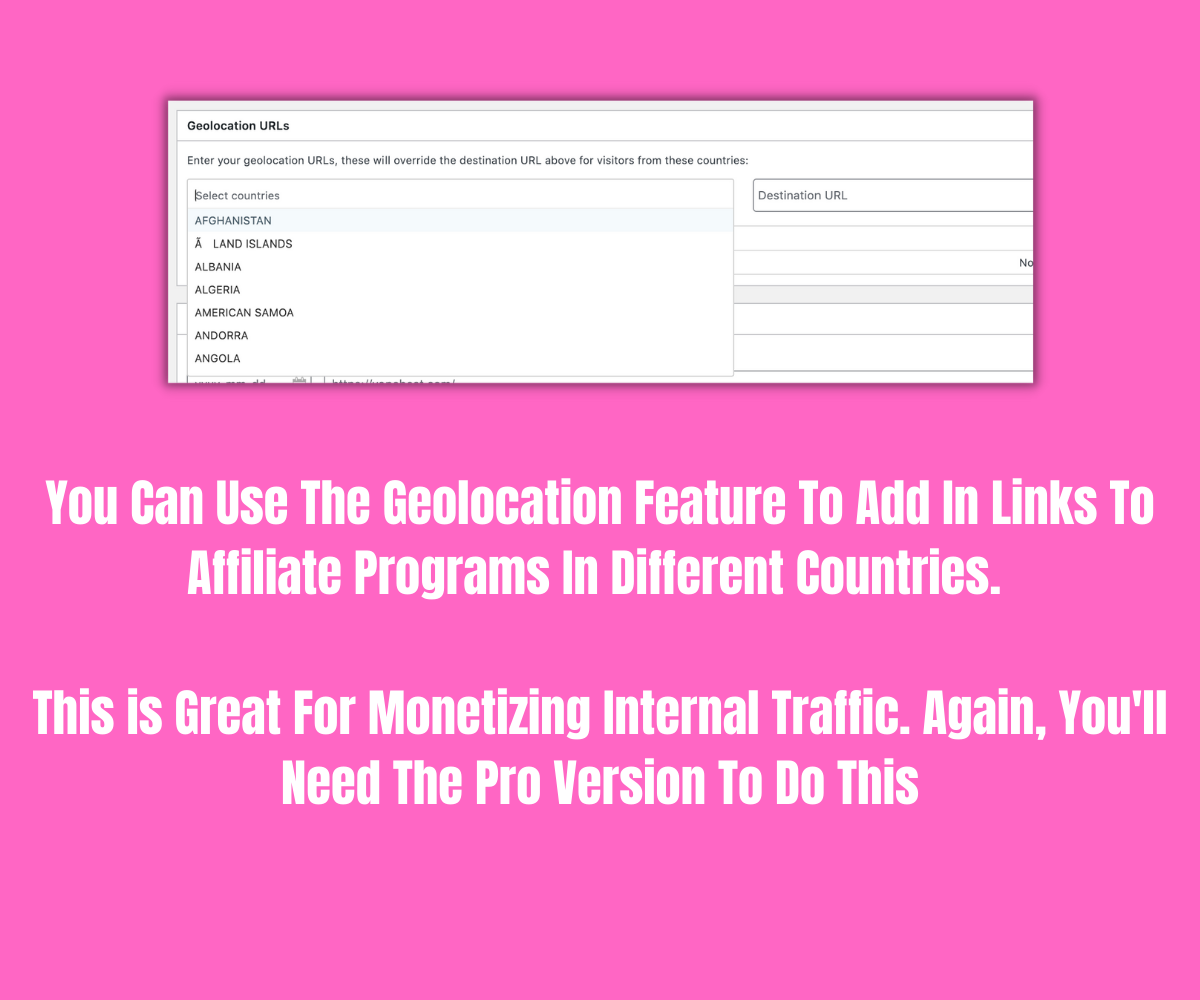 With Thirsty Affiliates, you can add multiple affiliate links, based on the users' location, to one link.
This means if the user is in the US, they'll be directed to the US retailer you promote.
If they're in the UK, they'll go to a UK retailer.
And if they're in the Philippines, they'll be directed to a Philippines store.
This allows you to monetise all of your traffic, not just your main location.
Other Cool Thirsty Affiliate Features
Thirsty Affiliates doesn't just cloak and help you manage your affiliate links, it has loads of additional features too.
And some of them are great for getting more clicks on your affiliate offers. Here's a breakdown of some of my personal favourite features:
Automatic Keyword Linking – With this feature, you can build out content silos with ease. Simply select a bunch of keywords for your main page, Best Hosting, for instance, and Thirsty Affiliates will automatically add links in posts that mention those keywords to your main page.
This allows you to quickly build-out content silos (sometimes called content hubs) inside your site. So, with the example above, you'd have a main page called Best Hosting and a few keywords that are assigned to it. These could be:
Hosting plans
My favorite WordPress hosting
Fastest hosting
Best host for WordPress
Now, whenever those keywords appear in the copy on your site, Thirsty Affiliates will automatically link them to the main page, your Best Hosting post.
And that let's you seamlessly behold content silos. And content silos are great for building authority around a subject and boosting your rankings.
Automatic Affiliate Linking – If you have a focussed blog subject and you only promote a few products, you can use Thirsty Affiliate's auto-affiliate tool to automatically add affiliate links to certain keywords.
For instance, if you talk about Kinsta a lot on your blog, you could set up Thirsty Affiliates to auto-affiliate link the following keywords: Kinsta, Kinsta Hosting, Kinsta Hosting Plans, Kinsta Price.
And every time those phrases appear on your blog, they will be turned into affiliate links. Simple, right?
These high-end features are ONLY available inside Thirsty Affiliates Pro. And you will want to use these features, trust me.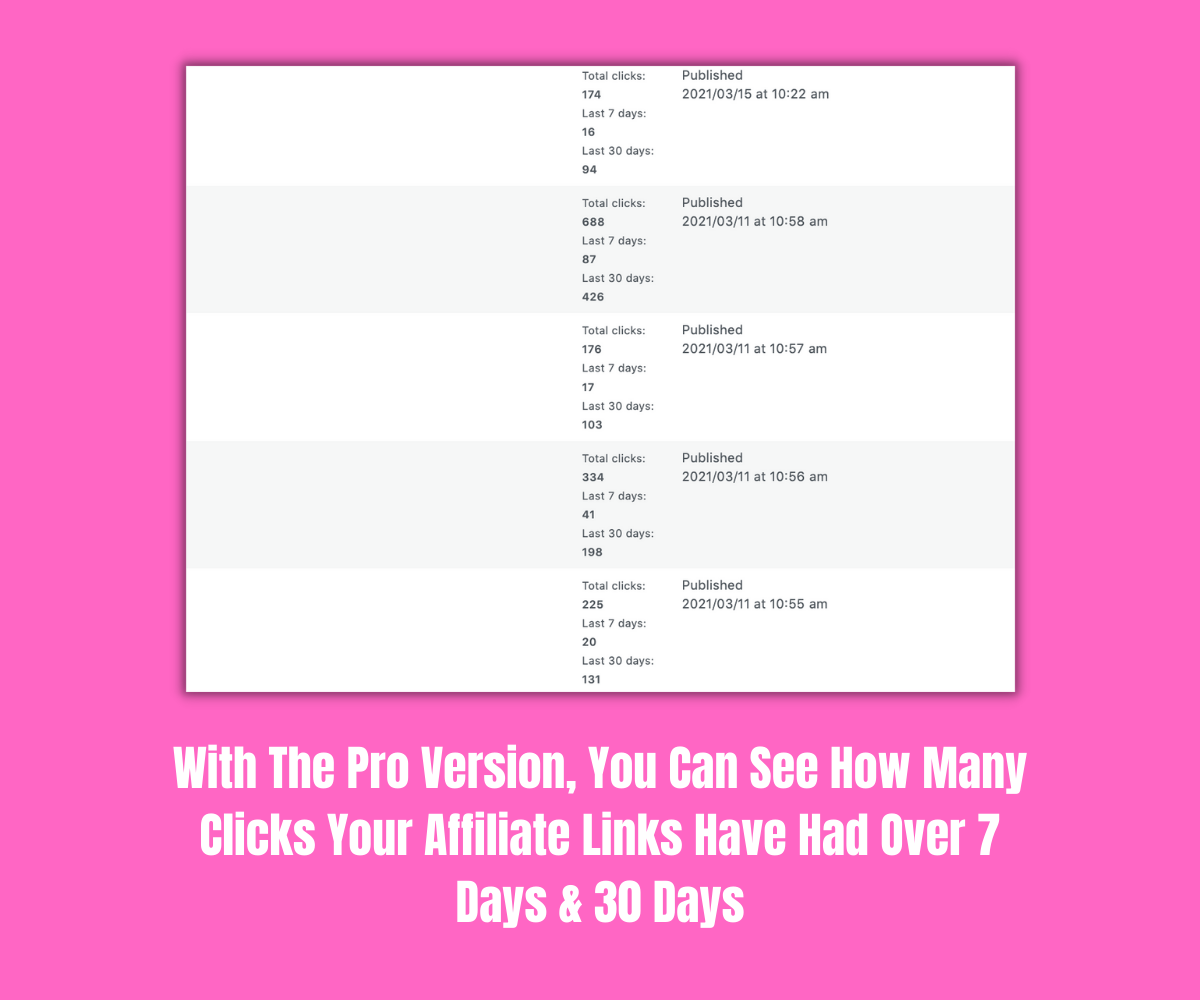 You also get awesome reporting with the Pro version too, so you can see how many clicks your links are getting, and a whole host of additional features.
For this reason, you will almost certainly want to go with the Pro version of Thirsty Affiliates. It's only $99 – I'd happily pay double – and used correctly you should make your money back in a couple of days.
This is one of the only plugins I have on my sites that I consider totally essential.
I cannot emphasize just how useful Thirsty Affiliates is.
If you're doing affiliate marketing, you need this plugin up and running on your site.
Otherwise, you're just leaving money on the table.
Richard
I run multiple blogs and e-commerce stores for a living. I've been doing this since 2014 in a range of niches from tech to music gear and vaping products. This blog is where I share all my wins and losses, so other people don't have to make the same mistakes I did
Craft The Perfect Post That Ranks and Converts!
Download this cheat sheet to optimize underperforming posts on your website.
By subscribing, you agree to get emails from me, Matt Giovanisci. I'll respect your privacy and you can unsubscribe any time.