WTF are content hubs? How do you build one? And, most importantly, do content hubs actually work!? Here's everything you need to know from a dude that has built loads of them…
---
Content hubs – or content silos – are great for ranking your content faster. They're not miracle workers, though, so if you have a brand new tech site, the likelihood of ranking for a massive keyword like Best iPhone is still about zero.
But for more attainable keywords, they're a brilliant tool for blogs of all sizes and authority. And they serve a purpose too. You have the main topic, let's say it is BEST USB AUDIO INTERFACES, and you want this page to rank for that keyword.
What Content Hubs CAN & CAN NOT Do…
First, you need to build out this page, make it look all nice and sexy, add in your appropriate affiliate links and media, and then publish it. Most people now just sit and wait, hoping that this page will rank in Google. If you have an authority site, it will probably rank at some point – maybe even on the first page of Google.
But if you're site is new or has a DA of less than 20, your chances of ranking for a keyword like this are pretty slim. But you can increase your chances of eventually ranking by using a content hub that focuses on this keyword. This is the #1 reason why sites of all types and sizes and authorities use content hubs.
If your site or blog is brand new, a content hub CANNOT make you rank overnight. Nor can it cause Google to send more traffic to your site. But what it CAN do is help Google get a better idea of what your site is about. If you go from one post to twenty posts on a certain subject, Google will take note.
Tell Google What Your Site is About
And once Google starts taking notice of your site, the type of stuff you cover and write about, it gets a better idea of where to place you in its index. If you have 20+ posts on USB AUDIO INTERFACES and a few solid backlinks, Google might even start ranking you on page one or two – this could take one month, two months, or even six months. It all depends on how much work you're willing to do.
What you need to remember is this: a content hub isn't an SEO hack, nor is it a magic pill that will 10X your site's traffic. All it will do is provide Google with a better idea about the kinds of topics you write about. Content hubs are great for expanding the topic cluster that Google associates with your site. This is all they do.
You Will Need To Write A LOT of Content
If you run a music blog but you've never done any posts about music software, you'll have to do A LOT of posts about music software before Google will be convinced that you're a reliable source on the subject.
You'll also need to earn a bunch of backlinks too. Backlinks
from good sites make ranking content and content hubs a lot easier. More on this in a bit though.
Using the above example, if you wanted to expedite this process, you would build out a content hub around music software – it could be Best Music Software For Piano Players, for instance.
This would be your hub's main page, the one you want to rank. It will likely be a money page (affiliate page) as these are often harder to rank than information or non-transactional pages.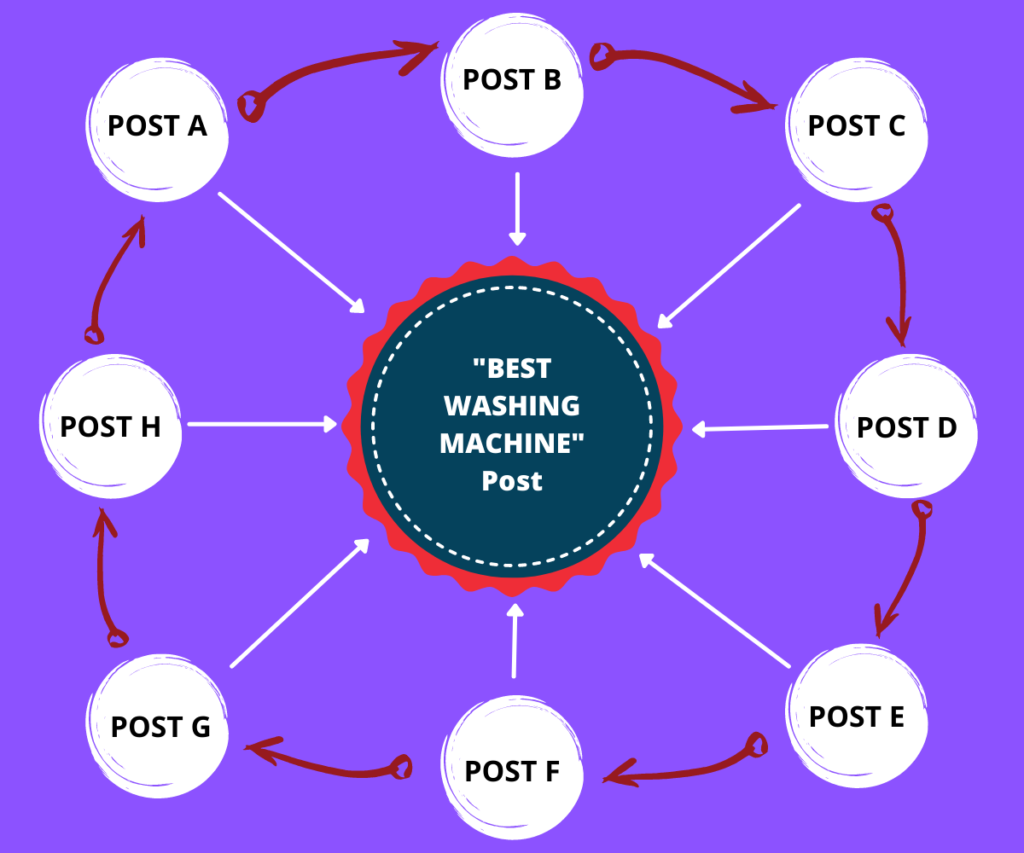 Next, you'd create lots of smaller, supporting posts and these would all link to your post about The Best Music Software For Piano Players. Usually, I aim for at least 10 supporting posts.
These posts can be user guides, opinion pieces, news – whatever. Their job is to rank for smaller keywords and link up to the main page (which, in this case, would be your post on The Best Music Software For Piano Players).
You will need to write a lot of content, however; there's just no way of getting around this. Most of my content hubs probably have hundreds of thousands of words in them – maybe more, in some cases. If you're doing 10-20 posts, each with 1000 words, building out content hubs can take time. But they're well worth doing.
Why Content Hubs Work
Content hubs work because they group together clusters of pages that target related keywords and, collectively, help to build out your coverage of a topic. All the supporting pages link up to the main page and any links earned on your smaller pages pass juice up the hub to the main page, as well as other linked pages in the hub.
This means, while you probably wouldn't get many natural links to your main, affiliate page, you would almost certainly get a few to an informational post. And these links will pass juice to ALL your other content hub posts, including your main post because they're all linked – it's like a web, where everything is connected.
Confused? Don't be – here's a really quick example, using The Best Music Software For Piano Players example from above.
First, build the The Best Music Software For Piano Players page
Next, pick the keywords for your supporting posts – I use a free tool called Keyword Tool IO
Open Keyword Tool IO, type in your keyword – music software
Pick 10-20 keyword questions
Now, use these keywords to build out supporting posts that link up to The Best Music Software For Piano Players page.
Simple, right? And if you want to make linking all these pages A LOT easier and faster, use a tool called LinkWhisper. I use it on all my sites. It is a brilliant tool that makes content hub creation an absolute cinch. It is also great for ensuring all of your posts have internal links.
And, trust me, manually doing internal linking – as I have done for almost 10 years – is not a lot of fun. To do it properly, you need to spend hours on it. With LinkWhisper, you can basically do it in seconds. It is an essential tool that all bloggers and site owners should be using.
You can even set up auto-linking in LinkWhisper too, so every time you write "music software" on your piano blog, it'll add a link to your The Best Music Software For Piano Players page.
Why Content Hubs Are Good For SEO
Google is an information machine. It likes giving people the right, most up-to-date information. But it is becoming increasingly discerning about where it gets that information from.
If your site is brand new and you only have one post on USB AUDIO INTERFACES, why in the hell would Google rank your site over another one that has 20 or 30 posts on this subject?
It wouldn't.
Your site lacks the authority on this topic and/or subject to be taken seriously by Google's algorithm. So what's a noob to do? Simple: build out more content and link them all together. This is what a content hub is. It's not complicated, it is just a bunch of similar posts and pages on your site that are all linked together.
By understanding this concept, you can quickly use content hubs to force Google to take note of what your site is about. My latest site is getting close to doing 50,000 visitors a month and it is only 14 months old. I haven't done any outreach and I never buy links. All I used was content hubs and good supporting content.
This is why I like content hubs so much. Google likes to think in terms of topics and the more topics that Google thinks your site covers the more you'll be able to rank. A content hub can quickly help you add "new" topics to your existing site too. Just take a keyword you want to rank for, create a mega-post on it, and then create 10-20 smaller posts that target similar/related keywords to your main keyword and link them all. Rinse and repeat.
It's really that simple. And please, for the love of God, do yourself a favor and download LinkWhisper for WordPress – it will save you hours of work.
Richard
I run multiple blogs and e-commerce stores for a living. I've been doing this since 2014 in a range of niches from tech to music gear and vaping products. This blog is where I share all my wins and losses, so other people don't have to make the same mistakes I did
Craft The Perfect Post That Ranks and Converts!
Download this cheat sheet to optimize underperforming posts on your website.
By subscribing, you agree to get emails from me, Matt Giovanisci. I'll respect your privacy and you can unsubscribe any time.