CRO products, things like HotJar, are incredibly useful for finding out exactly how users interact with your site's content.
They're also usually really expensive.
Google Optimize is the exception to the rule here (it is also completely free) but it does come with a fairly steep learning curve.
15% LIFETIME DISCOUNT ON LINK WHISPER
Link Whisper is one of the most useful tools you can run on your blog. With it, you can easily 10X your internal linking and this will have a massive impact on your rankings and SEO.
> Get Your 15% Discount On This Tool Now
Most CRO newbies start with HotJar because it is simple to integrate and easy to analyze. You watch recordings and view heatmaps of how users are interacting with your content.
But HotJar isn't exactly cheap.
And this is what makes Microsoft Clarity so compelling; it is basically HotJar for free.
You have all the same functionality, support for multiple sites, and it doesn't cost you a bean.
Forget HotJar, Get Microsoft Clarity Instead
Microsoft Clarity plugs in into your site with a simple bit of code and then pulls out reams of data – stuff like recordings of on page activity, click metrics, and scroll depth.
The setup process is simple AF; just grab the code and install it in your site's header.
Prior to testing Clarity, I was dubious. Why?
I've never been a fan of Microsoft; I hate Windows and prefer Google Drive for creating documents and spreadsheets.
I also find Microsoft's software needlessly convoluted, too busy, and generally inferior to the competition (with the exception of Excel which is still the best spreadsheet software on the planet).
But Clarity is really, really good. I was kind of blown away by the sheer amount of data it pulled in.
And it is 100% free.
I think it was this aspect of Clarity that threw me so much. I still have no idea why Microsoft isn't charging for this application.
I fear it won't be free forever, however, so if you want to get Clarity for free I'd get drop everything you're doing right now and download it.
Microsoft STILL charges for its word processor application like it's 1998, so the idea that it will offer Clarity for free indefinitely is absurd.
Microsoft is using the free aspect to drive adoption.
Once it has a few million users, I'd bet my bottom dollar that it will start charging.
But right now it is free, so do yourself a favor and grab yourself a seat at the table. Free lunches are rarer than hen's teeth when it comes to useful, actionable CRO tools.
And this is significant for a couple of reasons.
The first reason is simple enough: getting into CRO, especially for new site owners, can seem a little expensive.
The Best CRO tools usually cost quite a bit of money.
Usually anywhere from $70 to $200 per month for the most popular CRO tools.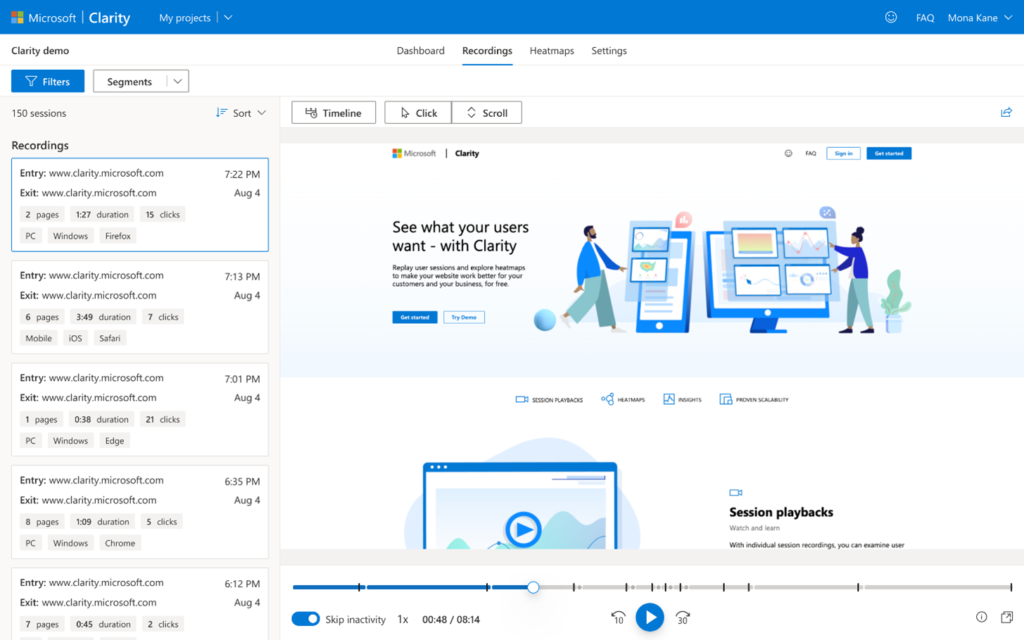 Free CRO tools are rare, or, in the case of Google Optimize, too complicated for beginners. Most new or aspiring CRO adepts start with HotJar.
And as we established earlier, HotJar is not cheap.
Cost is a big deal, especially if you're boot-strapping a side-hustle, so having a free option like Microsoft Clarity is brilliant.
The second point relates to access to actionable data. If you have a new site with limited traffic, you might think it is not worth doing CRO.
This is wrong.
You should be doing CRO from day one, as the insights will be there waiting for you whether you're doing 100 users per day or 100,000.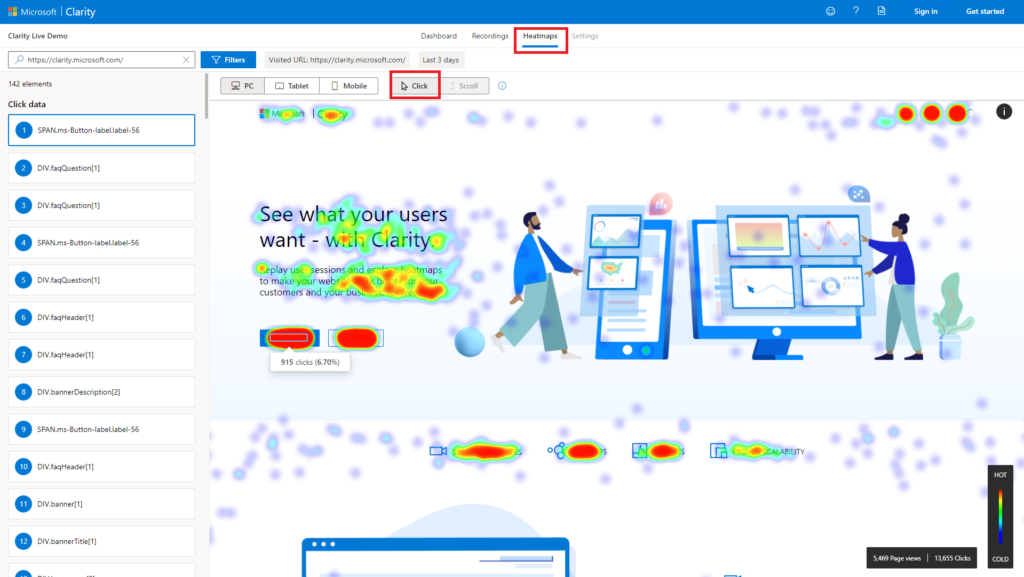 For instance, with a tool like Clarity, you will be able to tell how far each user is scrolling on your page.
If 90% are only scrolling 35% and your email optin form is located at the bottom of the page, NO ONE is going to see it.
Moving it up to the top of the page will increase visibility and, providing your CTA is on point, increase conversions.
Without a tool like HotJar or Clarity, you would have no way of knowing this.
And this is why CRO is so important, even if you're just starting out.
How Do I Get Microsoft Clarity?
Simple: go to this link, sign-up, and follow the instructions to get Microsoft Clarity installed on your site.
If you're not 100% certain how to install Clarity on your WordPress blog, here's a more detailed breakdown of how it is done from yours truly.
How To Install Microsoft Clarity on WordPress
Before you install Microsoft Clarity on your WordPress site, you'll need one additional plugin, if you're not a developer, and it goes by the name of Insert Headers and Footers.
You need this plugin because your need to insert the Microsoft Clarity tracking code into the head section of your site. This ensures that it is active on all pages.
Once you have the headers and footers plugin installed and active, go to the Microsoft Clarity site and follow these steps:
Register for a Clarity account. You can use Gmail, Facebook or your Outlook account
Give your new project a name
Enter the website URL of the site you want to track
Enter the site category
Hit Create
You will now be given a tracking code for Microsoft Clarity. Copy this code and go back to your WordPress site, open up Insert Headers and Footers, and bang the code into the HEAD section (it should be the first section).
Hit save and you're done.
Please note: it can take a couple of hours before Microsoft Clarity starts pulling in data, so be patient. It does not work instantly.
How To Integrate Microsoft Clarity With Google Analytics
In order to keep all your tracking in one, easy to manage place, I recommend integrating Microsoft Clarity with your existing Google Analytics account.
This way you can see all your data in one place which makes life easier for you.
Mercifully, integrating Clarity into Analytics is actually pretty easy – even for the beginner.
Here's how it is done.
Step One – Select the product (site) you want to connect to Google Analytics. Go to SETTINGS, then SETUP and select GETTING STARTED tab. Then click GET STARTED in the Google Analytics section.
Step Two – You will now be redirected to log in to your Google Analytics account. Sign in, making sure to use the correct credentials, and proceed to the next step.
Step Three – Now you need to select the web property (your site) that you want to connect to Clarity. Select which site you want, then hit CONTINUE.
Step Four – You will then be redirected to the Clarity Setup Page. At the bottom, you'll see a toggle for Google Analytics, switch this to ACTIVE.
And that's it, your Microsoft Clarity account and Google Analytics are connected. Simple, right?
Richard
I run multiple blogs and e-commerce stores for a living. I've been doing this since 2014 in a range of niches from tech to music gear and vaping products. This blog is where I share all my wins and losses, so other people don't have to make the same mistakes I did
Craft The Perfect Post That Ranks and Converts!
Download this cheat sheet to optimize underperforming posts on your website.
By subscribing, you agree to get emails from me, Matt Giovanisci. I'll respect your privacy and you can unsubscribe any time.