If you want to integrate Google AMP on your WordPress blog, you might think you need to fork out a mountain of cash for a developer. But you'd be wrong…
Google AMP isn't for everybody. Plenty of people actively despise it – and with good reason too.
But AMP, at least for now, appears to be here to stay.
Google favours sites with AMP too. It says it doesn't but it does – both in Google News and Discover.
Similarly, if you want to get inside the Top Stories carousel on Google (or Bing's) mobile SERPs, you'll need AMP as well.
And believe me, you really do want to be getting into there.
Why?
Because the Top Stories carousel can deliver some game-changing traffic to your site.
The kind of traffic that would crash a cheap hosting company's servers.
And, best of all, you can – theoretically – access this kind of traffic on a daily basis.
You can rank for impossible keywords like "Best CBD" or "iPhone 13" inside Top Stories with ZERO backlinks.
But you'll need AMP.
And you'll need to publish news too, so if you're not, get a news section added to your site and bang out some news, even if it is just to get some action in Google's Top Stories.
Google says AMP isn't a ranking factor. But Google says a lot of things.
Like steroids in the bodybuilding world, if you want to compete with the big boys, in tough niches, you're going to need AMP.
That's just the way it is – no way around it. And all the long tail keywords in the world won't change that.
Do You Need A Developer To Install AMP on Your Blog?
Normally, yes, you would need a developer to get AMP up and running on your blog.
The reason for this is simple too: implementing AMP is more confusing than watching Tenet after two bottles of wine and several joints.
There are many, many things to consider when integrating AMP and, if like me, you're not a developer, they will terrify and confuse you.
Get any of AMP's particular protocols integrated wrong and it will not work. You'll just get errors – errors that look like this…

But there is now an option for non-developers and idiots like me. It's called Amp For WP and it is the ONLY AMP plugin you need to bother with in 2021 and beyond.
What about the official AMP Plugin for WordPress? Honestly, it's rubbish.
Like actual AMP, it requires far too much prior knowledge of AMP protocols and, once it is installed, some pretty impressive page building skills.
It's not worth it, basically.
Not when you have a plugin like AMP For WP at your disposal, a plugin which literally does everything for you.
AMP For WP also gives you access to some really nice-looking pre-made AMP templates too, so your mobile site will look great.
And, again, you don't have to do anything remotely technical.
Just install the plugin, follow the steps below, and you have AMP.
Installing AMP For WP
OK, here's a really quick overview of how you install AMP for WP on your WordPress blog.
Click Plugins > Add New
Search For AMP For WP (It's The One With The Red Logo)
Download & Activate
AMP For WP will now open and give you two options for setting it up: BASIC and ADVANCE.
You'll want to select BASIC.
AMP For WP Setup Menu: How To Do It
This will open the SETUP menu inside AMP For WP, where you'll see the following options:
Website Type
Where Do You Need Amp
Design and Presentation
Analytics Tracking
Privacy Settings
Advertisement
3rd Party Compatibility
Next, go through each section, one by one.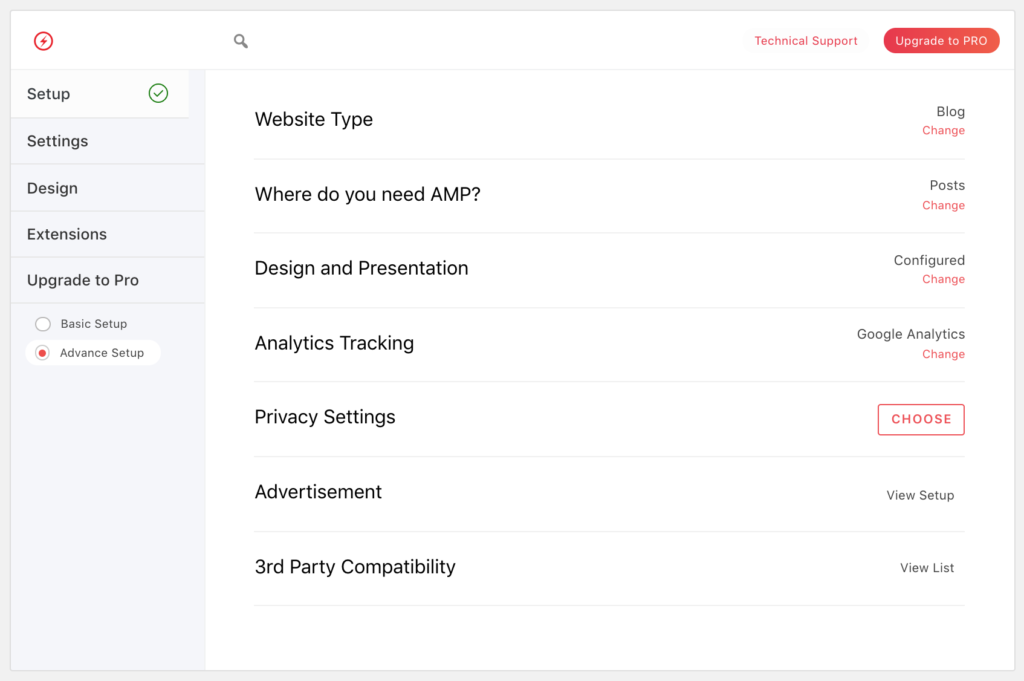 The first is WEBSITE TYPE and is fairly self-explanatory – I normally use either Blog or News.
It all depends on the niche of your site.
Next, you have WHERE DO YOU NEED AMP. This is where you decide where to implement AMP on your site.
You can have AMP on pages, posts, home page, and archives, if you like.
Because you're just starting out, and you might have plugins and ad networks to consider, I would limit it just to posts.
You then add your Google Analytics tracking code. GA4 isn't supported, so make sure you use your Universal Analytics account.
Next, do your privacy policy, the pop-up that asks for a reader's consent to use their data if they come on your site, by selecting either the GDPR one or the Cookie Notice Bar one.
I usually just use the cookies one.
Next, you have Adverts – this is where you can add in codes for your ads and place them accordingly.
Ans finally – this step is SUPER important too, so don't miss it – third-party compatibility. In here, you'll want to go to the drop down menu and select the SEO plugin you're using from the drop down menu.
I use Rank Math, so, in my case, I'd select Rank Math and click everything to green. This way AMP for WP will pull everything it needs – titles, meta data, URLS – from Rank Math and not cause any conflicts.
You can also add in your schema here too, if you're using the Structured Data plugin for WordPress.
AMP For WP SETTINGS Menu: How To Configure It
Once you're done with the basic setup, you'll want to move to settings – which looks like this: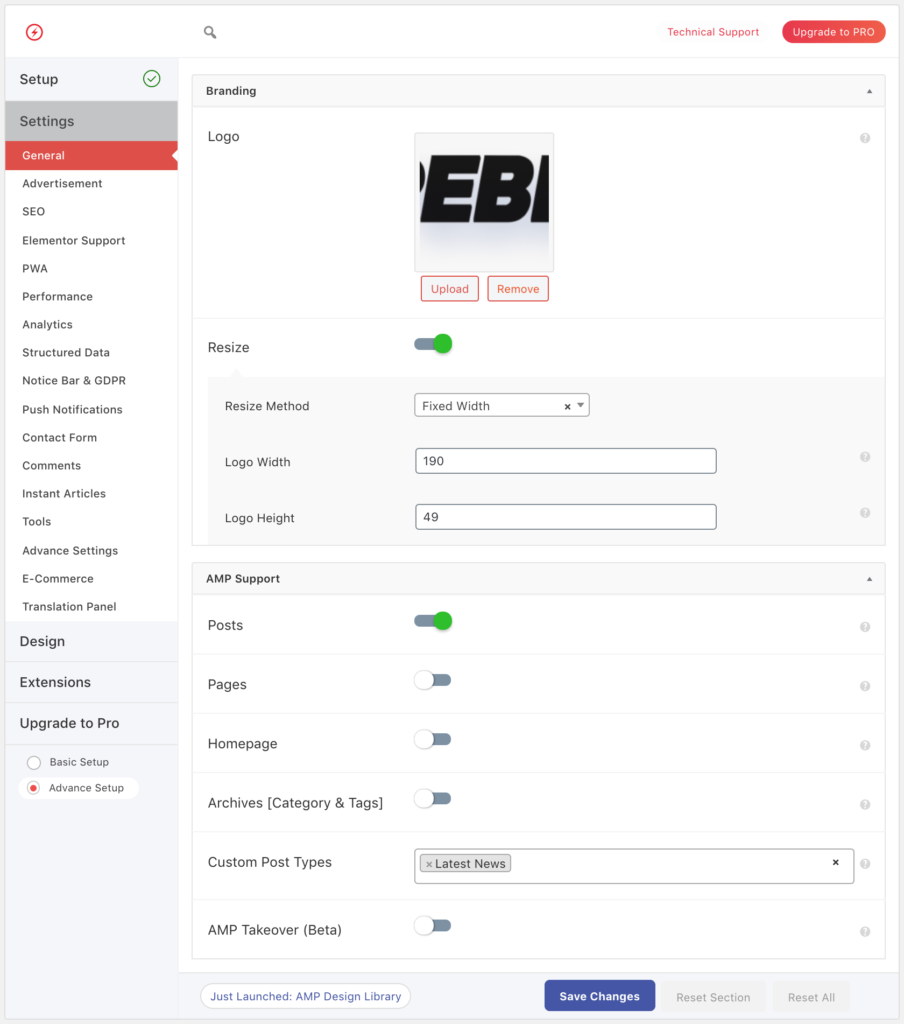 Again, you have a bunch of options to go through inside Settings and some are more useful/important than others.
Most are pretty self-explanatory. The only ones that might throw a spanner in the works for you are…
Performance – In AMP For WP's performance settings, I only switch on Minify usually. All this does is minify your site's HMTL which can help to make it faster. It won't break anything switching it on, so turn it on. I leave the other two options (Leverage Browser Caching and Optimize CSS) off.
Advance Settings – In Advance Settings, the only settings I toggle on are Search Result Page in AMP and Category Description. I leave the rest of it alone and my sites are all running just fine.
Tools – In Tools, you can select to EXCLUDE certain types of posts from AMP based on category. This is an invaluable tool because with it you can run AMP on just one or two sections of your site. News and Reviews, for instance, and keep everything else non-AMP.
This is how I run AMP on my tech site; I want AMP for news and reviews, as these drive the most traffic and have the most chance of getting into Top Stories.
For things like user guides, tutorials, and more general stuff, I leave AMP switched off.
And the main reason for this isn't because I don't want AMP on these pages, it is because ad CPMs on AMP pages are considerably lower than on non-AMP mobile pages.
And the reason? AMP doesn't support header bidding.
Until it does, use AMP sparingly – especially if you're running ads from a network like Ezoic or AdThrive.
If you're running a straight-up affiliate site without ads, go full board with AMP. Get it everywhere.
I guarantee it will boost your rankings and commissions.
Lastly, Let's Look At AMP For WP's Design Section
If you go with AMP for WP's Pro version, you'll get access to lots of compatible software for things like tables, email optin forms, recipe schema, Pinterest for AMP, Liveblog for AMP, Table of Contents, and a load of other stuff besides.
You'll also have more options when it comes to themes for your AMP pages.
Personally, I like the standard AMP for WP theme, SWIFT, as it looks smart and functions great.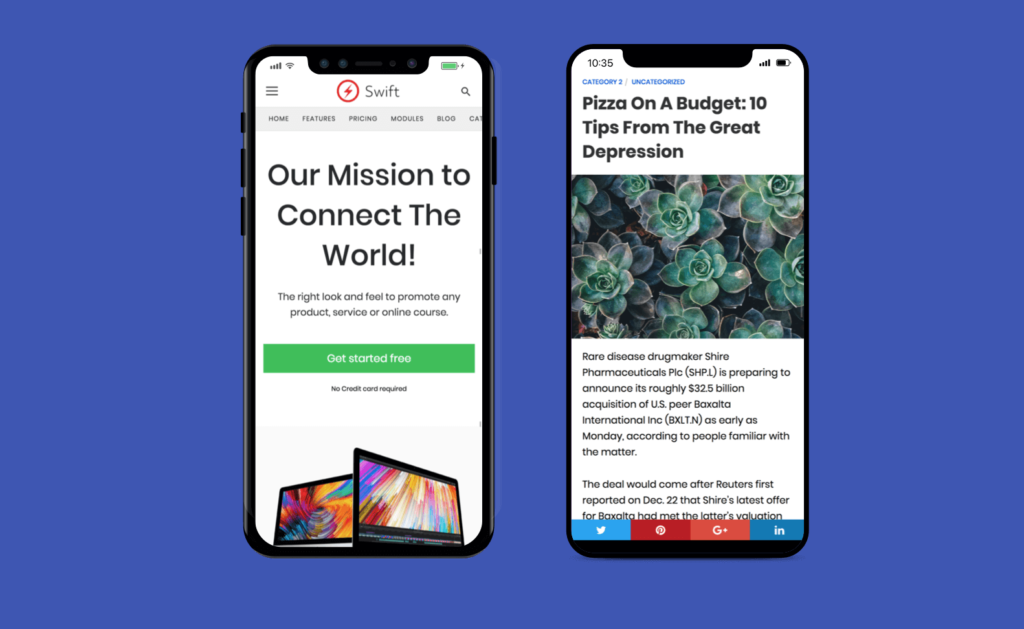 But if you want more choices, you have them. And this is great because not all sites are the same; you might have a business site you want to run AMP on and that kind of site will have different design needs than a straight-up blog or news site.
My advice? Get the Pro version of AMP For WP. With all the money you're saving by not using a developer to integrate AMP on your site, it's the least you could do.
Plus, with the Pro version, you get access to over 45 AMP Extensions, email optin makers, e-commence features, and a whole lot more besides.
WTF is Amp Takeover?
Did you think we were done? AMP For WP has one last trick up its sleeve…
And it goes by the name: AMP Takeover.
What does AMP Takeover do? It basically turns your entire site, mobile and desktop, into a native AMP site.
Every page, category, achieve, post, and nook and granny on your site will be native AMP, both for desktop and mobile users.
With this setting enabled, your Page Speed Insights score will go through the roof; you'll get 99-100 easily.
BUT…
There's always a "but", right?
You'll want to be careful with this. If you run plugins on your site, things like OptinMonster, or any advanced forms or programmatic ad networks, NONE of these will work because they are not supported in the AMP framework.
I repeat: NONE of your WordPress plugins will work with AMP For WP.
I say, NONE, but there are a few that do.
Let's Review, for instance.
Still, the vast majority – meaning 99.9% of plugins – do not.
And while AMP for WP does serve up a lot of functionality, it still has to operate within the confines of AMP's protocols.
And that means a lot of the stuff you currently run on the back-end of your blog will not work.
If you're running an ad-based blog, you'll also want to avoid AMP Takeover too; the CPMs on AMP pages are just too low.
If you're starting from scratch, however, and your plan is to run an affiliate site or something that is not reliant on ads, then, by all means, give AMP takeover a whirl.
Native AMP sites aren't common. But that doesn't mean you cannot do it.
And if you do, you'll have a rapid-fast blog that loads instantly and will be eligible for getting to Top Stories in SERP more or less right away.
And that's a great place to start your blogging journey.
Download AMP For WP PRO | Prices Start From $149 For One Site
Richard
I run multiple blogs and e-commerce stores for a living. I've been doing this since 2014 in a range of niches from tech to music gear and vaping products. This blog is where I share all my wins and losses, so other people don't have to make the same mistakes I did
Craft The Perfect Post That Ranks and Converts!
Download this cheat sheet to optimize underperforming posts on your website.
By subscribing, you agree to get emails from me, Matt Giovanisci. I'll respect your privacy and you can unsubscribe any time.