I know, I know – you're strapped for cash and you want to start your blog with ZERO cost. But hosting is super-important.
But here's the thing: crap hosting is not going to do you any favours or save you any money in the short, medium, or long term.
Why?
Because eventually, whether you like it or not, you will have to upgrade to something decent.
This is just a fact of life.
Don't Piss Your Money Away on Cheap Hosting
Here's a quick example of why you should avoid cheap hosting.
Say for whatever reason one of your posts goes viral. That would be good, right?
Of course, it'd be amazing.
Going viral means massive amounts of traffic which, in turn, means more leads, commissions and/or ad impressions – or all three!
But if you have crap hosting, the servers will not be able to handle the influx of traffic and will crap out (meaning your site crashes), losing you, potentially, tens of thousands of page views in the process.
That means no ad impressions.
No affiliate conversions.
No email signups.
No nothing. Just a blank-ass screen and some pissed-off users.
Most newbies do not know this. And that's fine; it's not like any of the affiliates promoting crappy, cheap hosting companies will tell you this in their content.
They just want to convert you and get paid.
But it is important to understand that, should something major happen with one of your posts, your hosting provider will be able to handle the traffic.
This is why decent hosting is essential. It is something you should have in place from day one.
And by decent, I do not mean Bluehost.
Bluehost sucks.
Managed WordPress Hosting: Your New Best Friend…
The only reason every marketer and his dog recommends Bluehost is because it has a killer affiliate program. Bloggers make a killing recommending them because its commissions are massive, as you can see below.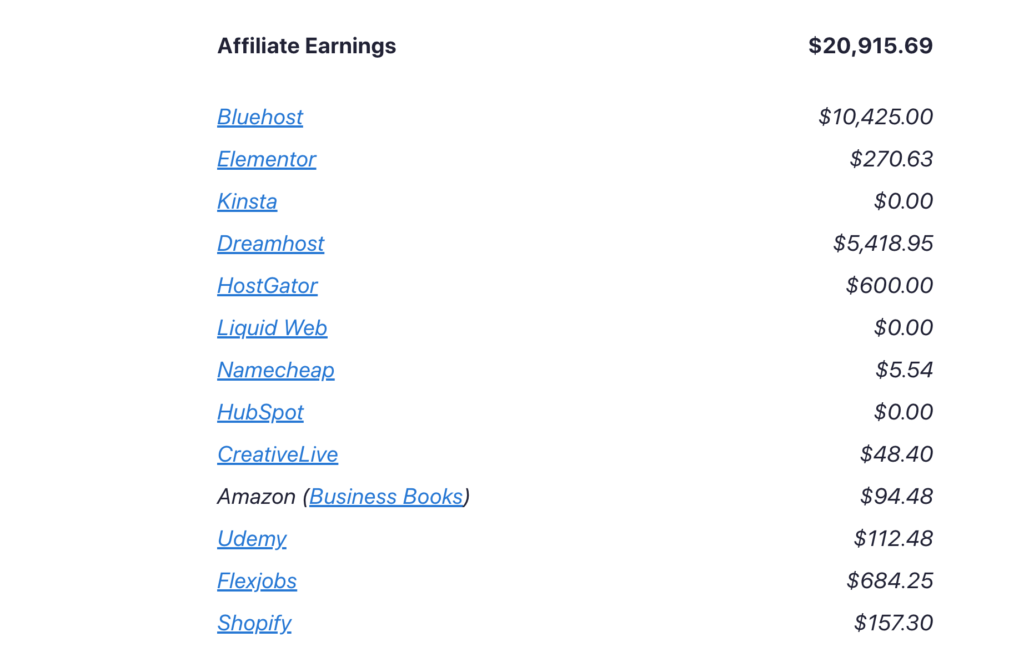 Am I a Bluehost affiliate? Fuck no. I am a Kinsta affiliate though and the reason why is simple…
I actually use Kinsta on ALL my sites.
Why I Promote Kinsta To Pretty Much Anyone That'll Listen
I love everything about the company – from its super-useful blog to its rapid speeds, 99.9% uptime, and market-leading customer support.
I also love that Kinsta's Google Cloud-powered servers can and will handle huge spikes in traffic to my blogs.
I could get a million visitors to a single post in an hour (in my wildest, cheese and whisky-induced dreams) and the servers would hold.
That is why I am a Kinsta affiliate. I promote them because I use, trust, and fucking adore them as a company.
Is Bluehost OK for absolute beginner blogs? Sure. It'll work fine and you'll be able to do your thing.
But eventually, once you start getting some traffic, you'll need to switch to a proper host, which is a pain in the ass, so my advice would be to use a proper managed WordPress host like Kinsta from the get-go.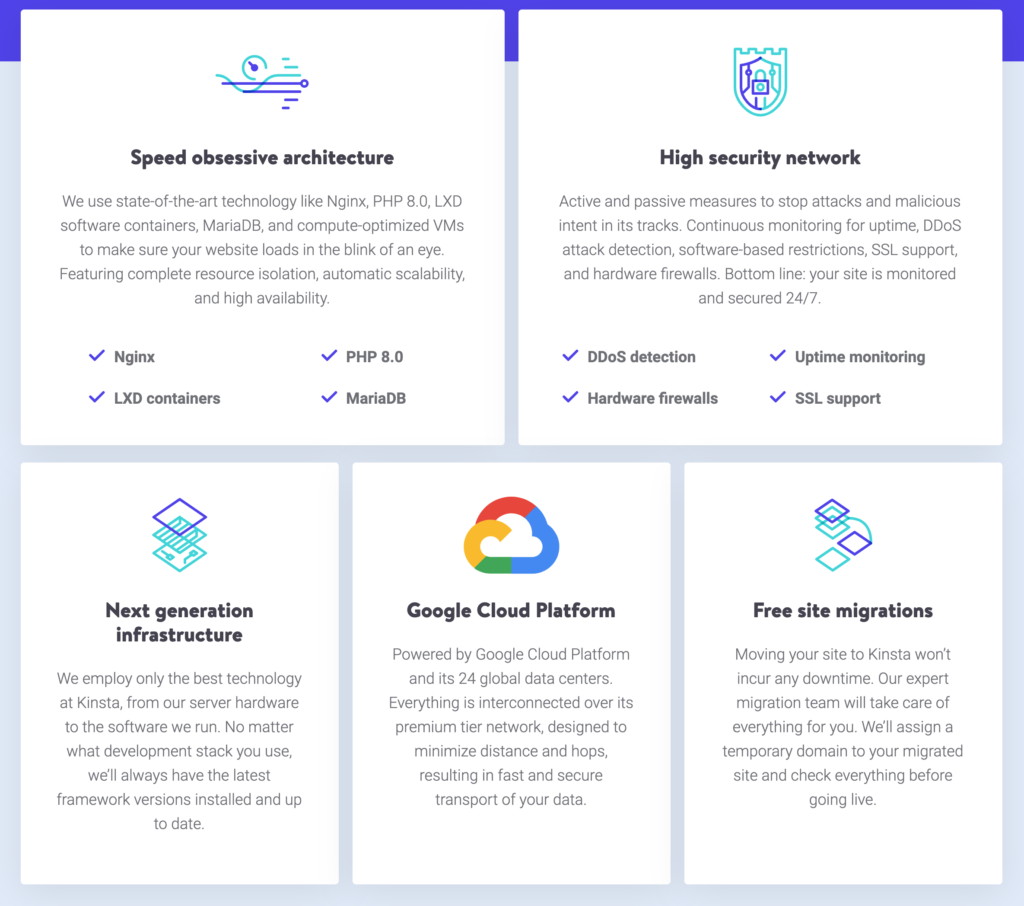 Yes, managed WordPress hosting costs more. But so does decent beer and I never drank the cheap shit even when I was completely skint.
If you cannot afford to cough up the price of a meal out for hosting each month, you have no business running or attempting to run a blog.
Blogs cost money to run. This is just a fact of life. Sure, they're cheaper than opening a B&M business, but you still have costs.
And hosting should be viewed as fast-and-hard FIXED cost, something you don't bitch out on.
If you value my opinion, as someone that has been doing this stuff for more than a decade, go and sign up with Kinsta (you can view all of its plans here) for your WordPress blog.
They'll even help you set it up, get the SSL working, and get you all logged into your new site's WP backend.
Prices start from as little as $30 a month and you're basically covered for anything and everything.
Kinsta Has NEXT-LEVEL Customer Support
Kinsta also has the best customer support on the market too, so, if like me, you're about as useful as a bag of dicks when it comes to server stuff, this kind of thing comes in really handy.
I don't know how much Kinsta spends on its customer support, but it is unlike anything I have ever experienced before.
I'm guessing it is A LOT. I mean, it must be. They employ actual engineers and experts, not minimum wage doinks that read off a script.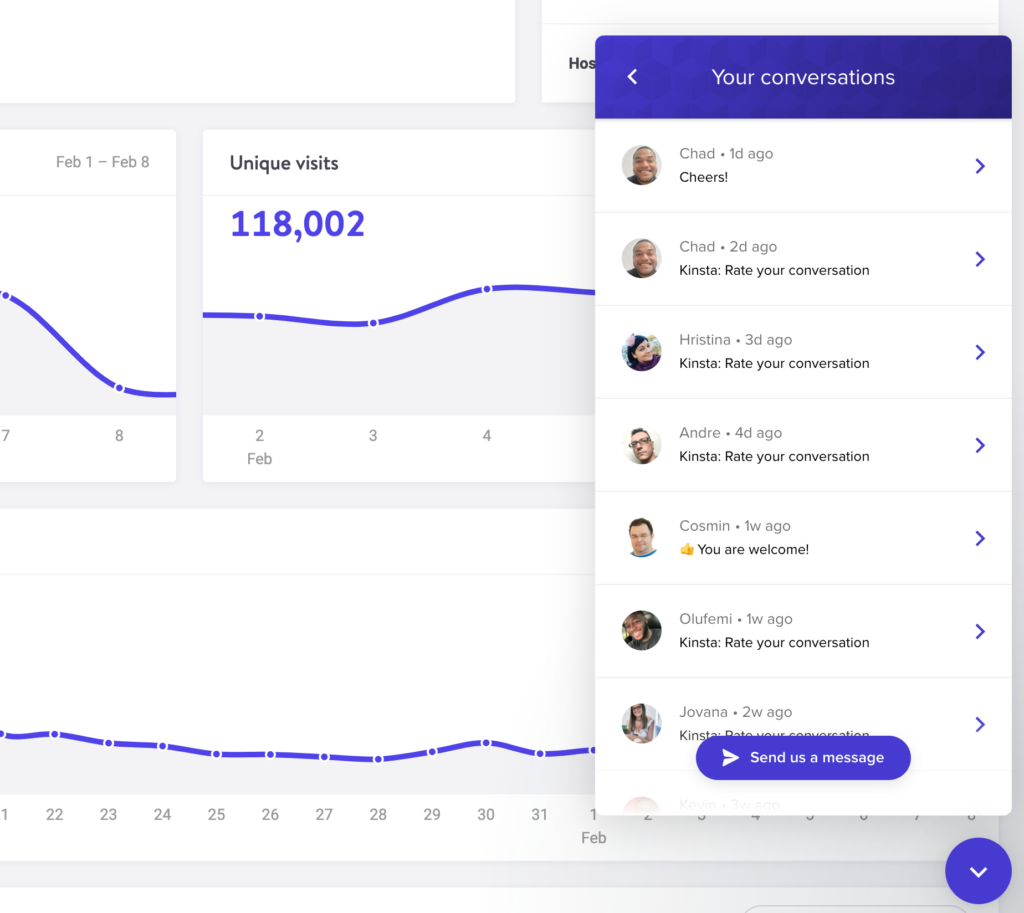 Even if there were faster hosts around (and there are), I would stay with Kinsta for the simple reason that its customer service is off the charts.
And I really do mean that: you can message them via the live chat inside your Kinsta dashboard, day or night, at any time and they will pick up.
Kinsta's tech support have helped me fix multiple issues on my sites, create backups, isolate plugins that were messing with my site's performance, and pretty much everything else in between.
If you're new to blogging, having access to this kind of expertise – as well as killer speeds, 100% uptime, a free CDN, and much more besides – is invaluable.
You basically have an expert on hand, 24/7 to help with your site's performance whenever you need them.
And all it'll cost you is $30 a month?
What more could you want?
Richard
I run multiple blogs and e-commerce stores for a living. I've been doing this since 2014 in a range of niches from tech to music gear and vaping products. This blog is where I share all my wins and losses, so other people don't have to make the same mistakes I did
Craft The Perfect Post That Ranks and Converts!
Download this cheat sheet to optimize underperforming posts on your website.
By subscribing, you agree to get emails from me, Matt Giovanisci. I'll respect your privacy and you can unsubscribe any time.